YSG(GH) Gravel slurry pump
Type YSG(GH) pumps are single-stage, single-suction, cantilevered, horizontal, centrifugal slurry pump. They are designed for continously handling the most difficult higher abrasive slurries which contain too big solids to be pumped by common pumps. They are suitable for delivering slurries in Mining, Explosive sludge in metal melting, Dredging in dredger and course of rivers, and other filed. This series of pump especially suitable for the high flow, high concentration and high head working condition, good performance of NPSH and high abrasion- resistant, can be widely used in high temperature and strong abrasive slurry transportation.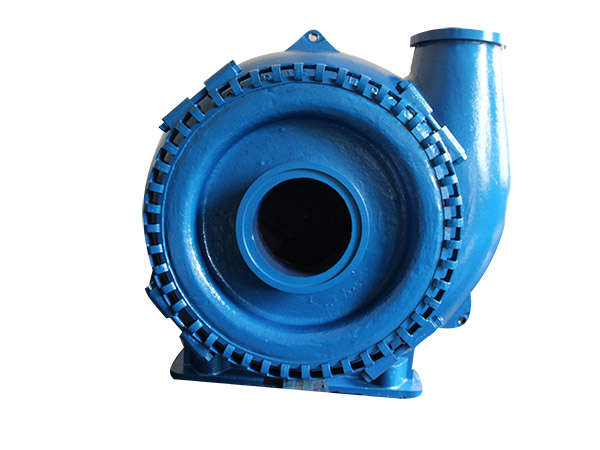 SG(GH) Clear Water Performance

Type

Max.Motor Power KW

Capacity Q(m3/h)

Head
H(m)

Speed
n(r/min)

Effn%

NPSH (m)

Min.passage size(mm)

100YSG - DB

60

36-250

5-52

600-1400

58

2.5-3.5

378

150YSG - EB

120

126-576

6-45

800-1400

60

3-4.5

378

200YSG - SB

560

216-936

8-52

500-1000

65

3-7.5

533

200YSGH - SB

560

180-1440

24-80

500-950

72

2.5-5

711

250YSG - GB

600

360-1440

10-60

400-850

65

1.5-4.5

667

250YSGH - GB

600

288-2808

16-80

350-700

73

2-10

950

300YSG - GB

600

576-3024

8-70

300-700

68

2.0-8.0

864

350YSG - GB

600

720-3600

18-44

300-500

70

3.0-9.0

1016

350YSGH-TUB

1200

324-3600

26-70

300-500

72

3.0-6.0

1270

400YSG - TUB

1200

720-4320

12-48

250-500

72

3.0-6.0

1067
Capacity range recommended 50%Q'≤Q≤110%Q' (Q'=Capacity at Max. eff. point) 2. M means Alloy wear-resistant material, R means rubber

Structural features
★ The bolt connect the high strength frame and cylinder bearing assembly are easy to installation and disassemble, and also easy to adjust the impeller clearance.
★ The discharge direction of pump can be oriented in any direction, easy maintenance.
★ Packing seal and expeller seal are optional according to the requirement.
★The wet-parts as casing, impeller, front/back liner are made of high chromium abrasive-resistance alloys that ensure the long life.
★ The design of this pump is single casing and wide wet-passage that ensure the pass of large particles, good performance of NPSH and high abrasion- resistant.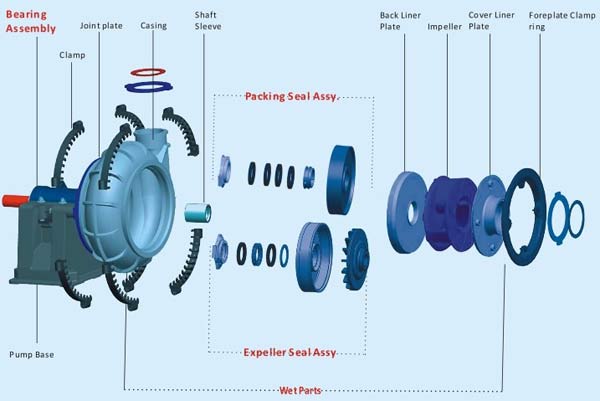 Seal Options
Gland seal - Most popular type of seal. Clean water at a certain pressure being injected into the packing through the lantern restrictor, preventing leakage from casing. Simple structure, easy maintenance and low cost, suitable for where expeller seal unsuitable.
Expeller seal- The expeller generate a reverse centrifugal force to prevent the leakage. It can be used for single-stage pump or the first pump of multiple pumps in series when the positive pressure at suction side is larger than that at discharge side by no more than 10%. No gland water is needed, the slurry will not be diluted and the sealing effect is reliable, used in where dilution of slurry is not allowed.
Mechanical seal - Suitable for applications where no extra substance is allowed to mix with the fluid being pumped, such aschemical or food industry.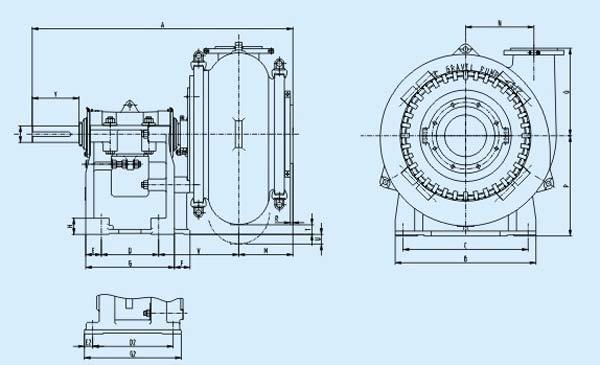 Type

A

B

C

D

E

F

G

E2

D2

G2

H

V

Y

I

M

N

P

Q

R

T

U

suction flange

discharge flange

the anchor hole

weight(kg)

O.D

I.D

HOLES

P.C.D

O.D

I.D

HOLES

P.C.D

100YSG - DB

1006

492

432

213

38

75

289

/

/

/

54

330

164

65

203

260

330

343

33

16

/

305

152

8-ø19

260

254

102

4-ø19

210

4-ø22

460

150YSG - EB

1286

622

546

257

54

83

365

/

/

/

75

392

222

80

295

352

457

405

29

54

/

368

203

8-ø19

324

305

152

8-ø19

260

4-ø29

1120

200YSG - SB

1591

857

762

349

45

45

540

/

/

/

98

487

281

100

330

416

610

533

48

60

/

457

254

8-ø22

406

368

203

8-ø19

324

4-ø35

2250

200YSGH - SB

1720

920

760

/

/

/

/

70

640

780

90

378

280

120

330

416

450

533

48

/

102

457

254

8-ø22

406

368

203

8-ø19

324

4-ø35

2285

250YSG - GB

2010

1207

851

/

/

/

/

64

749

876

152

473

356

140

368

522

851

665

48

238

/

527

305

12-ø22

470

457

254

8-ø22

406

4-ø41

4450

250YSGH - GB

2096

1207

851

/

/

/

/

64

749

876

152

502

356

140

424

610

851

787

48

121

/

552

356

8-ø22

495

527

305

12-ø22

470

4-ø41

5400

300YSG - GB

2320

1150

900

/

/

/

/

80

880

1041

125

607

350

150

431

692

650

914

58

/

274

705

457

16-ø25

641

640

406

12-ø25

584

4-ø48

11370

350YSG - GB

1774

920

760

/

/

/

/

70

640

780

90

455

280

120

330

475

450

620

48

/

206

457

254

8-ø22

406

368

203

8-ø19

324

4-ø35

3188

350YSGH - TUB

2062

1219

851

/

/

/

/

64

749

876

152

496

356

140

400

605

851

800

60

40

/

533

305

8-ø29

476

483

254

8-ø25

432

4-ø41

4638

400YSG-TUB

2367

1460

1200

/

/

/

/

95

860

1050

150

649

350

150

448

765

900

1008

72

/

120

650

405

12-ø28

600

600

356

12-ø28

540

4-ø79

12247