YHH High Head Heavy Slurry Pump
Type YHH pumps are single-stage, end-suction, cantilevered, double casing, horizontal, centrifugal slurry pump. They are designed for conveying strong abrasive slurries in the mining, metallurgical, power, chemical, papermaking building material industry ect. This series of pump is suitable for low flow, high concentration and high head working condition, especially suitable for the high head working condition that Single-stage pump can't delievery.

40-80% for higher density, strong abrasive slurries
40-100% for mediumr density, medium abrasive slurries
40-120% for lower density, lower abrasive slurries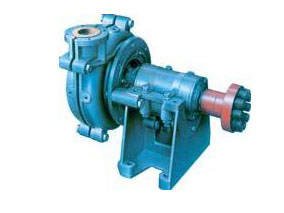 YHH Clear Water Performance

Type

Max.Motor
Power KW

Material

Clear Water Performance

Liner

Impeller

Capacity Q

Head
H(m)

Speed
n(r/min)

Eff n%

NPSH(m)

(m3/h)

(I/s)

25YHHC

30

M

M

16.2〜34.2

4.5〜9.5

25〜92

1400〜2200

20

2〜5.5

50YHHD

60

M

M

68.4〜136.8

19 〜38

25〜87

850〜1400

47

3~7.5

75YHHE

120

M

M

126〜252

35 〜70

12〜97

600〜1400

50

2〜5

100YHHF

560

M

M

324〜720

90 〜200

30〜98

600〜1000

64

3〜8

150YHHT

1200

M

M

576〜1152

160-320

32〜95

450〜725

65

6〜10
M means alloy wear-resistant material
Structural features
★ A large diameter with a short overhang ensure the rigidity of shaft, suitable for high power condition.
★ Hardened stainless steel shaft sleeve with 'O' ring seals at both ends. A slip fit allows the sleeve protects the shaft from the wear and corrosion.
★ The deputy vanes in both former and rear cover of Impeller relieve seal pressure and minimize recirculation.
★ Casing is made of ductile iron,ribs help casing to stand high pressure.
★ The wet parts are made of high-chrom alloy or rubber, to resist wear,corrosion,erosion or impact, parts made of metal or rubber are interchangeable.
★ The shaft seal may be adoptable of packing seal,expeller seal and mechanical seal to fit different working conditions.
★ The discharge branch can be positioned at intervals of 45 degrees by request and oriented to any eight positions to suit installations and applications.
★ The bearing assembly have the grease lubrication and oil lubrication are optional depend on the usage.
★ Adopted the oil lubrication bearing assembly can effectively lower the high operating temperature and reduce bearing fault.
★ The grease lubrication bearing assembly easy installation and adjustment, simple structure and easy to maintain and perform reliably.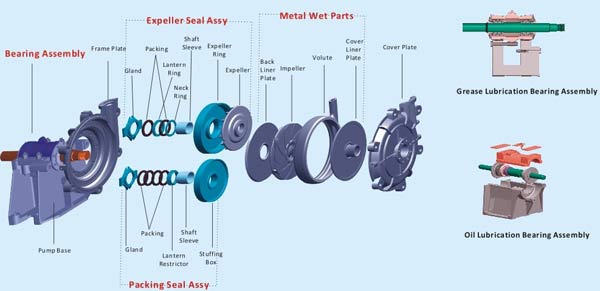 Seal Options
Gland seal - Most popular type of seal. Clean water at a certain pressure being injected into the packing through the lantern restrictor, preventing leakage from casing. Simple structure, easy maintenance and low cost, suitable for where expeller seal unsuitable.

Expeller seal- The expoller generate a reverse centrifugal force to prevents the leakage. It can be used for single-stage pump or the first pump of multiple pumps in series when the positive pressure at suction side is larger than that at discharge side by no more than 10%. No gland water is needed, the slurry will not be diluted and the sealing effect is reliable, used in where dilution of slurry is not allowed.

Mechanical seal - Suitable for applications where no extra substance is allowed to mix with the fluid being pumped, such aschemical or food industry.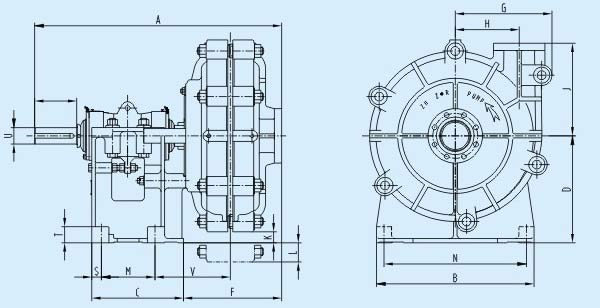 Type

A

B

C

D

U

E

F

G

H

J

K

L

M

N

S

T

V

suction flange

discharge flange

the anchor hole

weight(Kg)

O.D

I.D

HOLES

P.C.D

0.D

I.D

HOLES

P.C.D

40YHHC

759

406

311

254

42

121

306

270

194

254

/

11

175

356

32

48

252

152

38

4-ø17

114

152

25

4-ø17

114

4-ø19

318

50YHHD

986

492

364

330

65

164

389

384

254

368

/

51

213

432

38

64

298

216

76

8-ø19

178

203

51

4-ø19

165

4-ø22

750

75YHHE

1240

622

448

457

80

222

492

492

330

432

2

/

257

546

54

76

381

254

102

8-ø19

210

254

76

8-ø19

210

4-ø29

1250

100YHHF

1556

857

635

610

100

279

584

616

413

546

26

/

349

762

95

98

470

337

152

8-ø22

292

305

102

8-ø22

260

4-ø35

2531

150YHHT

2275

1150

1040

650

150

350

852

835

584

813

/

160

880

900

80

125

538

432

203

8-ø29

375

432

152

8-ø29

375

4-ø48

6586

100YHHS

1668

920

780

450

120

280

622

625

415

615

/

155

640

760

70

90

382

380

152

8-ø27

320

420

150

8-ø27

360

4-ø35

3450